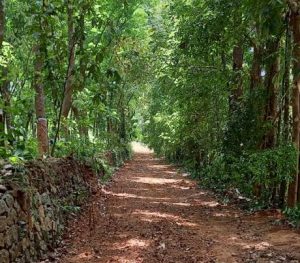 When I was in India, I had to see the neighbours, that live far away to clarify the access road to Maha Maya Center. They life in a house, that acutally only consists of walls and a roof made of a plastic sheet. No bathroom, no electricity, nothing. The family has three children. It ist he only family in this area that lives in such poor conditions. I had no time to prepare my 4-year-old daughter for that. She doesn't talkt he language of these children, but she hugged everyone of them. She didn't say a word to me, she just quietly looked around.
Back in the car she said to me: "Mommy, I think we need to give these children some of my toys, because they have none. And should we go tot he supermarket and buy some food, so that they have something to eat?". My daughter is just 4, but without the need to tell her something, she knew, what it means to be with each other and for each other. I was so grateful to see her like this and I felt how important it is to bring the apparently two sides of the world together, so that both sides can heal and become one.
It is astonishing that human beings are born with attributes like helpfulness, empathy and compassion. A child shoes these characteristics naturally - it's all about perceiving them.
Experiencing life far away, makes us aware, that it affects us, what happens to people all over the globe.
Through this experience, we get the chance to realize that all is one, that we can not consider the issues that concern us isolated, but that everything we experience concerns us as human beings, that everything is associated. This makes everybody and the whole world heal.