Hi,
Yesterday I got a message from a very nice lady, that I hardly know, telling me that she follows all the updates she can get about Maha Maya Land. She said she can nearly experience how everything is growing and she will be happy to visit this magic piece of earth one day.
With this I realized, that there are many people outside, who somehow "experience" the rising of Maha Maya Center or are even involved.
Though I appreciate social media as a source of information and I think it has it's value as a tool of our time, I have to admit, that it's hard for me to update social media. But there is so much to tell… life here is very diversified and exciting! Therefore I resolved to give you regular udates via this channel.
But where should I start, when I didn't tell anything for a while?
Well, let's start in the middle.
Actually, at the moment it's very quiet at Maha Maya Center of Consciousness – after quite a long time. Which means, that there are no guests at the moment.
I did already welcome the first Yoga group as well as a courageous and lovely woman, who joined me for a HIAO single retreat. But I will tell you more about this next time. 😊
Oh, I am so blessed to work here!!
Not only, because it's very quiet here, surrounded by the woods (though the birds keep singing quite loud 😊), also because the seminar hall turns out to be a perfect place to focus completely on yourself and to face the subject, that you came for. The magical garden invites you to trust in what's happening and to discover the answers you long for from deep within yourself. But also all the plants, butterflies, the atmosphere and all the beings that feel home here, seem to be whispering their support.
Sunanda and I already live here for 1 ½ years now. And every day I am astonished how everything here developed and rises.
I keep saying: A vision is not a wish. Not an idea. A vision comes from deep within your soul and is a mission.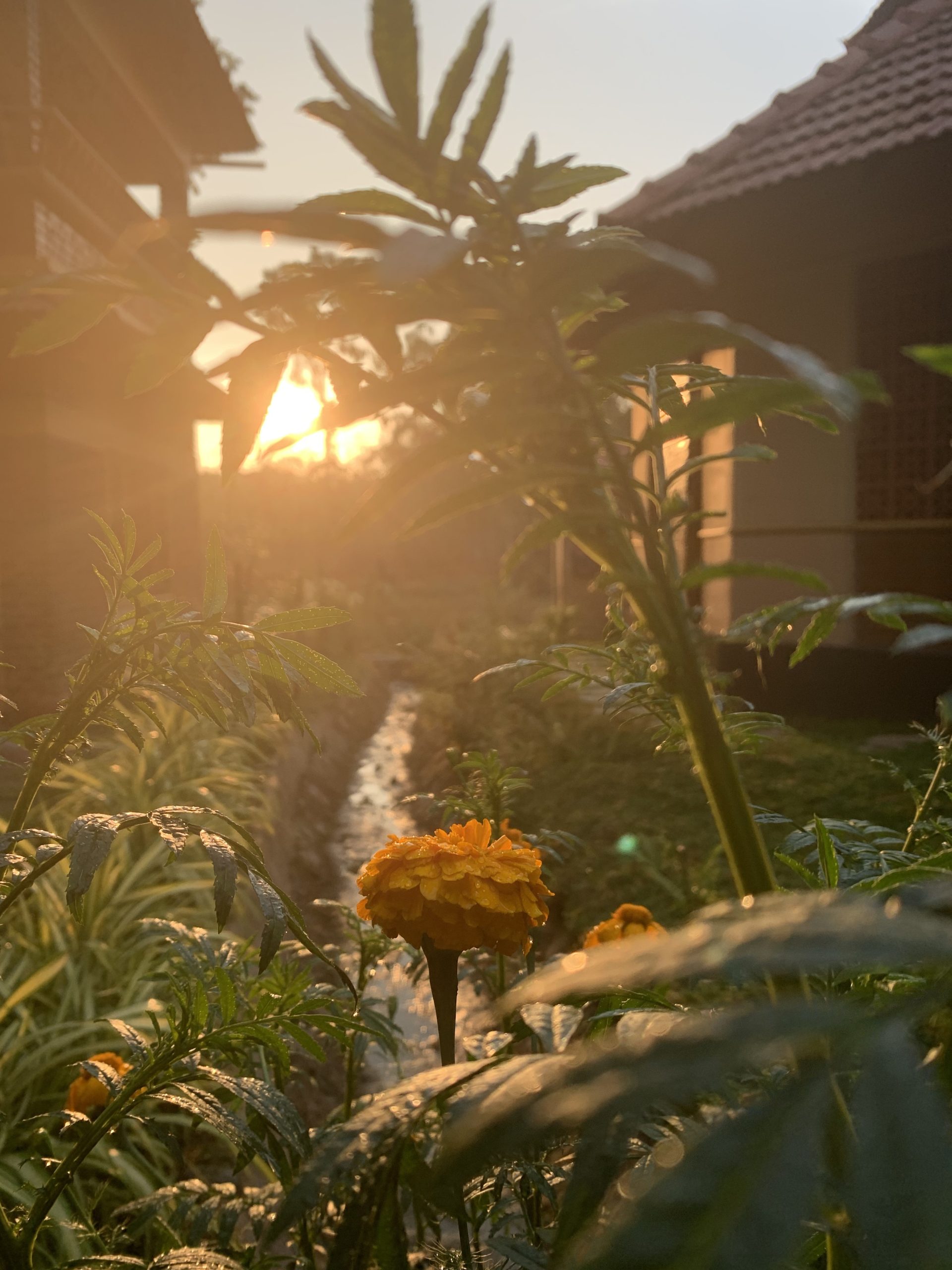 When we feel, that we "have to" follow something, because everything else would not be right, would not feel authentic, then the universe itself accompanies us to get everything right.
Oh… but this does not mean, it's easy 😉 Oh no! There have been lots of huge obstacles, many moments, where I don't see the path anymore.
But I learned to trust in the path. I learned to surrender in an immense way – last but not least through Sunanda…
We don't know what life in this incarnation wants from us.
But we learn to be flexible and through this the path keeps being a path, though it might be challenging.
Many people ask themselves, what makes this place so special.
And when they enter the gate, and they start crying, because they are so touched and they don't understand why and they ask me "all this was created by you?", then I can't really take this question.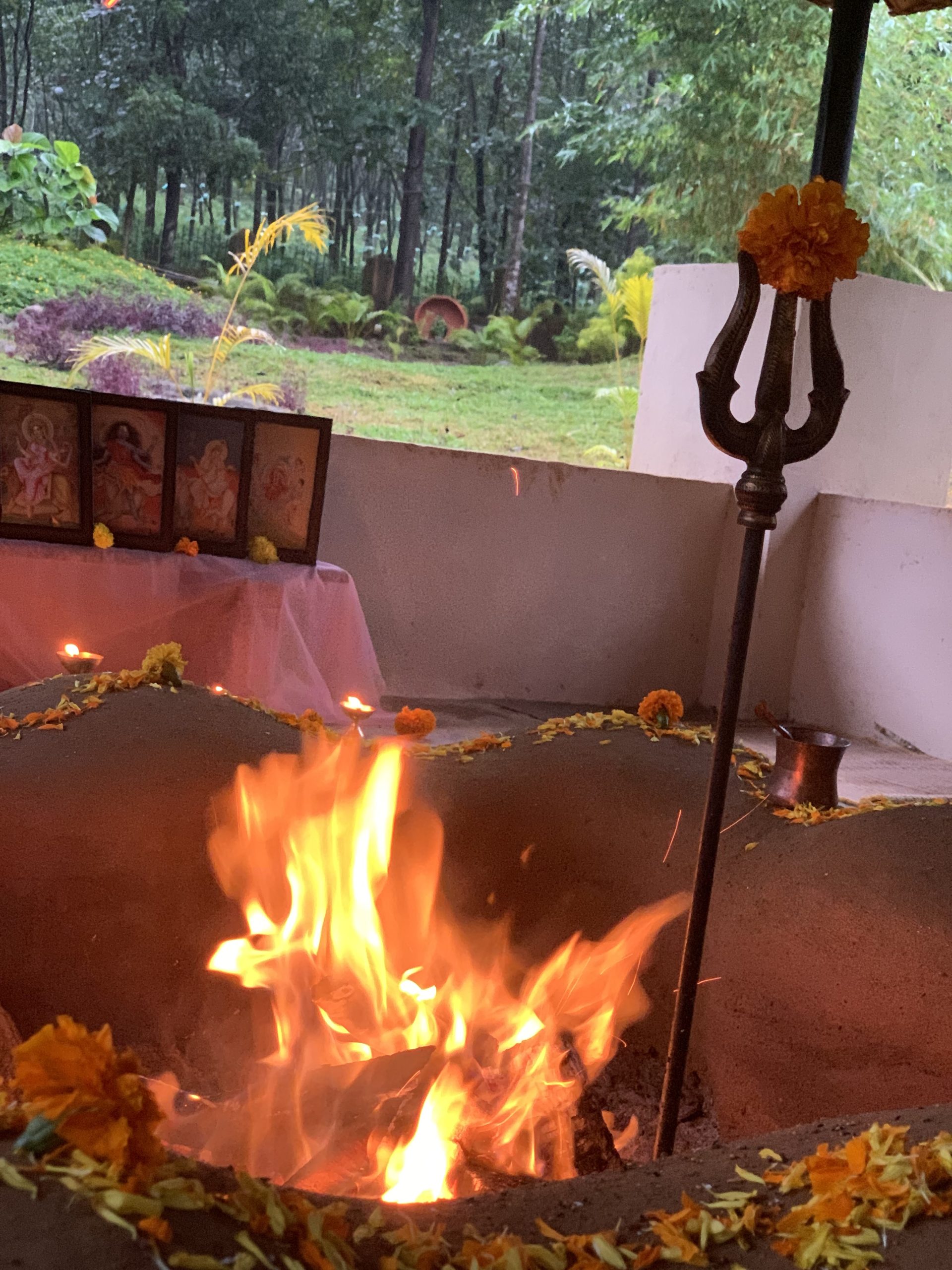 Why? Of course I am the first in line when it comes to responsibility and I by myself take all the decisions.
But the magic, the touching, the strength – where does it come from?
When I sit at the fire in the morning – all by myself at the moment – when Havan and Puja are done and the atmosphere is endless, the fire is cracking, the birds are singing and the jungle is giving it's unique sound, then I can't think. I witness the rising smoke from the fire, this smoke that carries all the information of every mantra, every seed that has just been reborn in the havan. All this creates atmosphere and comes down to earth again. Daily. Of course this means a lot – very much…
Furthermore I had to realize that the focus of a land mainly resides in the energy that a land safed and gives. Even more, when we follow a vision, the place receives the energy of this focus… And – of course – there is the big miracle… When I bought the land it was a wood. A rubber tree wood close to the jungle.
And – of course – there is the big miracle… When I bought the land it was a wood. A rubber tree wood close to the jungle.
But before that, looong before that: my inner eye shows me, that there has already been a place with an immense focus – the light comes from deep underneath.
Just the same at many places on earth at the moment…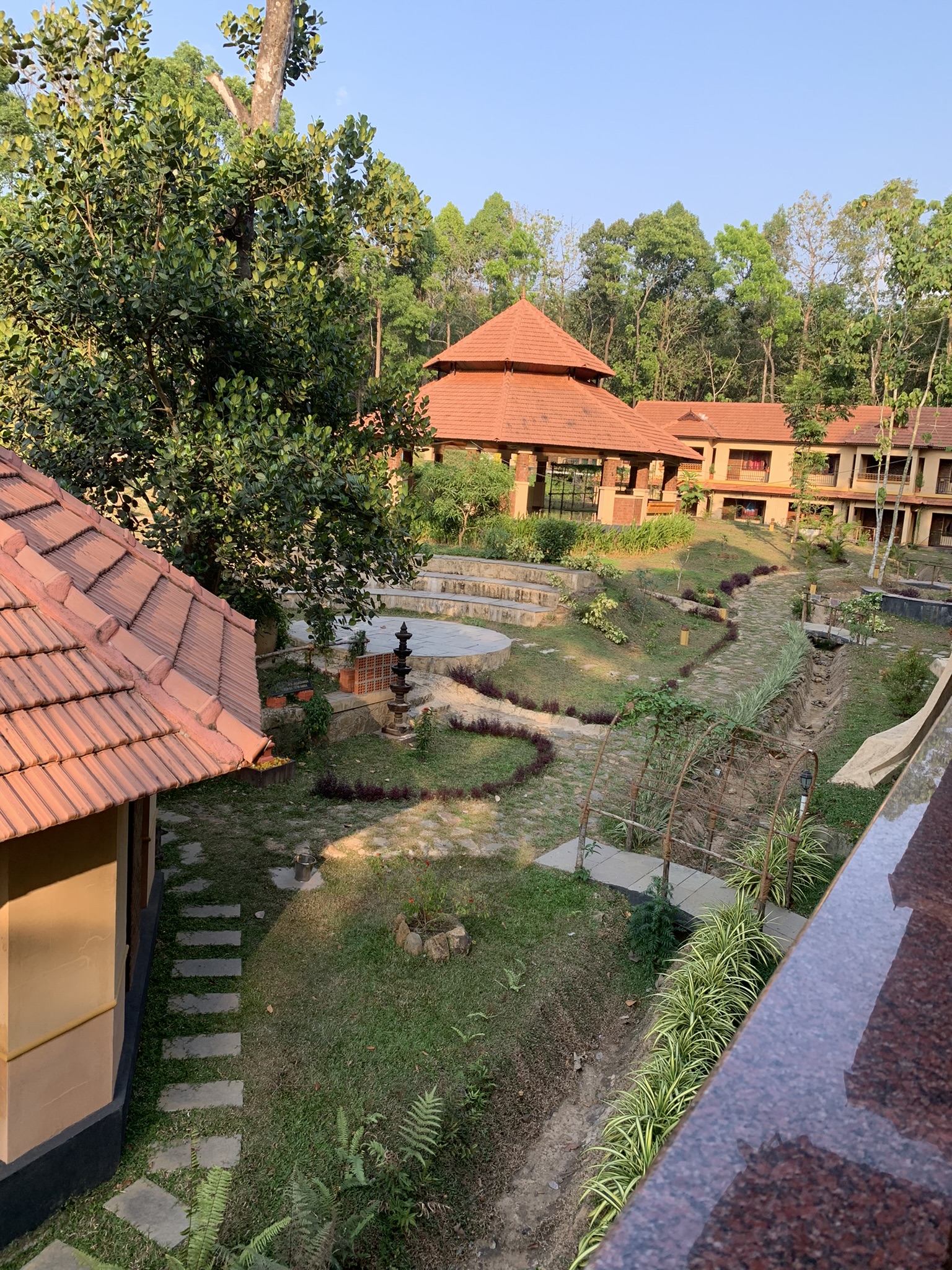 Well, that's when I start talking… 😊
Next time I want to tell you about people, that come here, about retreats, about jungle residents and what will come in the next month… there is always much to tell 😊
Best wishes from Sunanda and me
Pryia, Ishan and Phoebe
And the whole Maha Maya Land