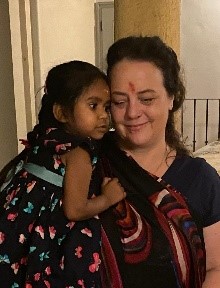 My name is Parvati Reicher, I am founder of the HIAO Healing Center in Vienna. I am Austrian with Indian ancestors because my mother was adopted from India. I am incredibly grateful for my Austria origin, with all the beauty of the country, the security and culture – though I also feel a deep connection and love to India.
4 years ago, I adopted my daughter Sunanda from India and now live together with her in Austria.
The project "Maha Maya Center of Consciousness" arised with such an inner strength and clearness from my deep inner self, that I am very excited to be able to present it now.
I strongly believe that every person – no matter where he/she came from and independent from what he/she experienced – can rise in his/her pride and truth value, if receiving the right help and guidance. This is the meaning of Maha Maya Center of Consciousness. This is my story, the story of my daughter and of many people I could accompany within the last 20 years.